Get your septic tank cleaned today!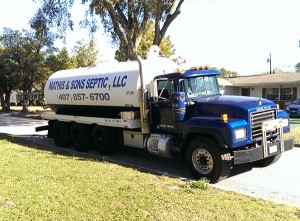 Your septic system should be pumped out every 2 to 4 years as proper maintenance.
Avoid spending thousands of dollars on a new drain field when maintaining your septic tank will keep your current system in proper working order.
If it's time for septic tank cleaning, be sure to take advantage of this special offer today:

Get septic tank pumping for only $235/1000gal today!

We have close to three decades of experience in the business, and as a family owned and operated company, we are ready to provide you with quality work and prompt service.
Call us today at (407) 857-6700 to schedule your appointment.
You can also fill out the form to send us an inquiry.
Don't forget to print out our coupon!